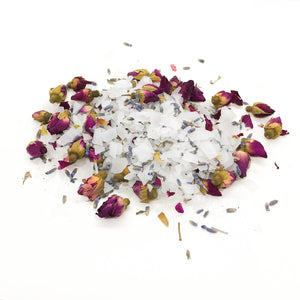 Did you know Lavender and Rose have the two highest vibrational frequencies of any flower? Rose resonates at 320mHz and Lavender at around 118MHz. Combining these two flowers with the deep healing benefits of Zechstein Sea salts containing 47% pure Magnesium Chloride, this bath soak blend will detoxify your body, calm your mind and soothe your soul. 
While Magnesium Chloride is often praised for helping to relax muscles and aid in stress relief and sleep, this mineral is used by over 300 bodily processes including regulating hormonal balance and helping to eliminate toxins. Maintaining healthy magnesium levels is aligned with good health and well being. 
Lavender and Rose are universal healing flowers which help harmonise, restore and regenerate the body and spirit. Both are gentle on the skin and deeply nourishing for all skin types. No additional fragrances have been added to the salts, however the dried Lavender and Rose has a mild natural floral scent.
Directions
Add 1 to 2 cups to a warm bath and soak for 15-20 minutes. Hydrate before and after.
 Ingredients:
 Zechstein Sea Salt, dried organic Lavender, dried organic Rose buds. 
About this product:
~ 100% organic   ~ No artificial colours or preservatives  ~ Vegan   ~ Unscented
~ Cruelty free  ~ Australian made ~ Reusable packaging (food grade glass jar)