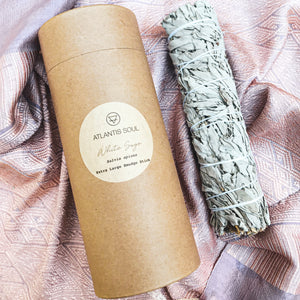 White Sage emits negative ions and our aura holds positive ions. Smudging is a ritual where we can neutralise and cleanse negative energy in our aura or the energy of other spaces and objects.
This smudge stick is large (20cm x 4cm) and is housed in a brown kraft biodegradable cylinder. It also comes with instructions of how to do your own energy cleansing ritual. All packages are shipped by carbon neutral delivery.
Our White Sage has been sustainably harvested in accordance with CA PC384(a).